An intuitive, easy-to-use and beautiful addition to any kitchen, Magnifica Evo Silver Black offers a range of delicious, 5 one-touch recipes, as well as a traditional milk frother and hot water maker for tea or infusions, making it the complete hot beverage package. It's ideal for both new and experienced 'at-home' coffee makers.
Perfectly ground beans for the richest aroma, 13 adjustable grind settings, consistent dosing and tamping to ensure the perfect extraction, also brew 2 espressos in one cycle

One-Touch control to prepare and customise coffee and milk-based recipes at the touch of a button

Craft personalised beverages using the My Latte traditional steam wand and practice Latte Art like a real Barista

Dishwasher safe grid and milk carafe, plus auto clean carafe function for the utmost hygiene
THE WONDER OF MANUAL
Manual milk frothing is made possible with the Fixed Cappuccino System, ensuring that air and steam are infused into the milk. Providing you with the best in-cup quality and texture to excite your taste buds.
CONVENIENCE IS KEY.
You are only a button away from a freshly brewed cup of coffee with the one-touch recipes. Brilliantly designed around your user experience, this coloured soft touch control panel will seamlessly bring you into the world of coffee. Serving you your favourite cup of coffee whenever you want it.
FOR EVERYONE'S NEEDS.
Equipped with 4 different one-touch coffee recipes like Espresso, Coffee, Long and Doppio+, not only will you enjoy your cup of coffee, but so will your loved ones. With the increased efficiency of the variable brewing unit, deliver two espressos at once while maintaining the perfect dosage and consistency.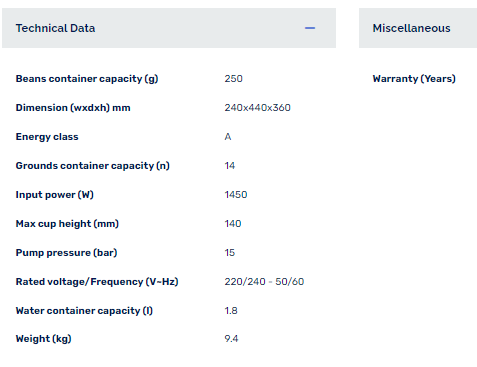 Product Model : ECAM290.31.SB